April 20th, 2013
together well as my main purpose is to show you some of the wigs I got (including
their colors).~~
There is more under the cut but please no comments about my doll looking scary. ;v;
I have a few more wigs other than this if anyone wants more. Just let me know. They
are all different styles and colors.
M57 Wild Sweetie
Pale Lemon
(
Warning : My friend said my doll looks scary so no comments about that, please. Thanks. TvT
Collapse
)
Hey~~ I promised some of you some photos of the wigs. I apologize if some aren't put
We're proud to reveal the new home of the community:
The ManikaManila Forum
!
Since our community has been constantly growing, it's been getting harder for us to make sure everyone feels at home. Now with the forum, we can keep discussions spread out so everyone gets the opportunity to speak to new people or see what's new for sale.
Along with the new community format, we're also introducing a new set of rules to ensure everyone's comfort. Our rules also cover our stance on recasts, which we know is a hot topic for everyone.
The LJ will still be running, but mainly as an archive of our old posts :) so please use the forum moving forward.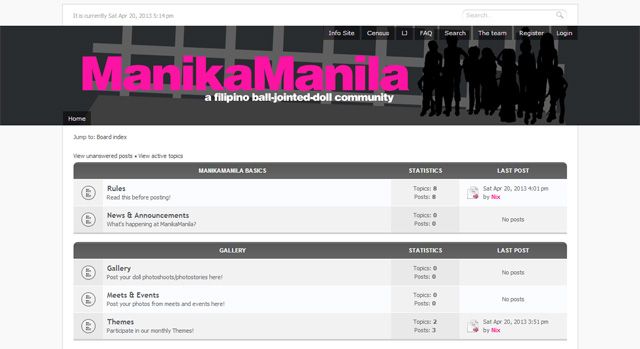 Finally, since this is the forum's soft opening, suggestions and comments are very welcome. Just approach any mod for your concerns.
Hope you enjoy our new home!
Hi everyone!